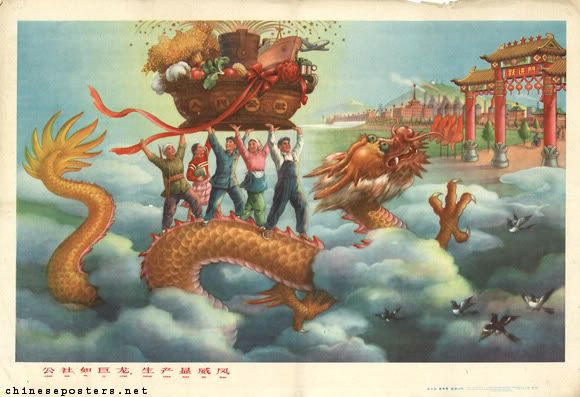 As I set out in The Fall of the Com­mu­nist Dynasty, and a HT to John Hempton's piece with­in which he con­tends that the entire Chi­nese econ­o­my is a Klep­toc­ra­cy , this week we have news from Cit­ron Research who reports that Ever­grande Real Estate Group Ltd is 'a decep­tion on a grande scale' .
Cit­ron quote ;-
'Ever­grande who ranks among the top 5 Chi­nese prop­er­ty com­pa­nies. Our analy­sis and pri­ma­ry research reveal that: 1] Ever­grande is insol­vent; and 2] Ever­grande will be severe­ly chal­lenged from a liq­uid­i­ty per­spec­tive. The Company's man­age­ment has applied at least 6 account­ing shenani­gans to mask Evergrande's insol­ven­cy. Our research indi­cates that a total write-­down of RMB 71bn is required and Evergrande's pro for­ma equi­ty is neg­a­tive 36bn.'
What sparked Cit­rons inter­est in Ever­gande was the mail order doc­tor­ate the chair­man claimed from the Uni­ver­si­ty of West Alaba­ma, a small col­lege 230 miles north of New Orleans with 2300 on-cam­pus stu­dents. Evergrande's is one of the top 5 play­ers in the Chi­nese prop­er­ty mar­ket that fell for its 8th con­sec­u­tive month in May. My expe­ri­ence with these types of mat­ters is that small things can be excel­lent mark­ers to greater prob­lems. Small exam­ples of dis­hon­esty in one area of life are often reflect­ed in larg­er undis­cov­ered exam­ples in oth­er areas of a person's life.
Mean­while, Chi­nese Postal Bank, the country's 7th largest bank in terms of assets, had its Pres­i­dent led away by inves­ti­ga­tors. The remark­able aspect of this sto­ry is that is that it is not remark­able ; bil­lion­aire senior par­ty fig­ures get tak­en away for ques­tion­ing on a week­ly basis.
Else­where , Zoom­lion the con­crete and indus­tri­al machine giant is seek­ing Rmb140bn ($22bn) in fresh cred­it, fuelling fears the com­pa­ny is at the cen­tre of a grow­ing debt bub­ble. Zoom­lion only has a mar­ket cap­i­tal­iza­tion of $12.5B and is one of the most short­ed stocks on the Hong Kong mar­ket with over 30% on loan at any one time to short-sell­ers. This com­pa­ny cer­tain­ly lives up to its name, we know we have a bub­ble when a com­pa­ny with a busi­ness mod­el like this one can raise just less than twice as much as the Face­book who raised $12.B by sell­ing 12.3% of the com­pa­ny.
Zoom­lion has an inter­est­ing busi­ness mod­el, it is sim­i­lar in many of ways to Cater­pil­lar, except where­as Cater­pil­lar report falling sales, Zoom­lion reports astound­ing sales growth with a five­fold increase in rev­enue since 2007. Zoom­lion cus­tomers some­times buy ten con­crete mix­ers when they planned to ini­tial­ly by one or two. They have a per­verse incen­tive to buy more than they need because these con­crete trucks are pur­chased via finance pack­ages sup­plied by Zoom­lion.
Then the machines can be garaged and used as col­lat­er­al to bor­row fur­ther funds from oth­er lenders. Zoom­lion con­tin­ues to grow while cement sales have plunged. In May, cement out­put increased 4.3 per cent YoY, down from 19.2 per cent record­ed last year. Zoomlion's new debt of $22.5B buys rough­ly 900,000 trucks which could pro­duce enough con­crete (at six loads a day) to build over thir­ty Great Pyra­mids of Giza a day .
Every sec­tor is infect­ed with these kinds of per­verse busi­ness prac­tices, steel traders used loans meant for steel projects to spec­u­late in prop­er­ty and stocks , it has been com­mon (appar­ent­ly) for steel traders to secure loans to buy steel then use this same steel as col­lat­er­al to bor­row funds to invest in prop­er­ty devel­op­ment and the stock mar­ket. In many ways this is the steel ver­sion of the Zoom­lion mod­el. A fun­da­men­tal foun­da­tion of any lend­ing mar­ket is the abil­i­ty of the lender to ensure title and guar­an­tee own­er­ship of col­lat­er­al.
There is $400B in debt spread across the steel mar­ket, this debt sim­ply can't be ser­viced even with more stim­u­lus, a fall in the price of steel could ren­der much of the mar­ket seg­ment insol­vent. The mon­ey is being fun­neled to main­land banks via Hong Kong then it leaves via Macau casi­nos.
There are dis­sent­ing opin­ions that Chi­na has a prob­lem. Even though Chi­nese PMI is falling at a faster rate than at any time in the last 3 years . Michael Pas­coe tells us it is only the eco­nom­i­cal­ly illit­er­ate that would read this data unfavourably.
Despite Michael's assur­ances that every­thing is super ok, a falling PMI is yet anoth­er sig­nal of prices and orders falling right through­out the Chi­nese econ­o­my . Pas­coe is typ­i­cal of the high­hand­ed media econ­o­mists who will chant CCP pro­pa­gan­da all the way over the edge. Pas­coe leads cheer­lead­ers against Amer­i­can excep­tion­al­ism, all the while embrac­ing the Chi­nese vari­ety with both arms and few ques­tions.
One of the core ele­ments of the Russ­ian rev­o­lu­tion was the Bol­she­viks expro­pri­at­ing the cap­i­tal­ist assets using them to fund the rev­o­lu­tion. In com­mu­nist ver­nac­u­lar of the times, it was referred to as the "expro­pri­a­tion of the expro­pri­a­tors". This term orig­i­nal­ly belongs to Marx and pro­vides an effec­tive finale to the first vol­ume of his Kap­i­tal:
The monop­oly of cap­i­tal becomes a fet­ter upon the mode of pro­duc­tion which has flour­ished along­side and under it. The cen­tral­i­sa­tion of the means of pro­duc­tion and the social­iza­tion of labor reach a point at which they become incom­pat­i­ble with their cap­i­tal­ist integu­ment. This integu­ment is burst asun­der. The knell of cap­i­tal­ist pri­vate prop­er­ty sounds. The expro­pri­a­tors are expro­pri­at­ed.
All rev­o­lu­tions have class and eco­nom­ic mat­ters at their core. Iron­i­cal­ly, the dif­fer­ence in a future Chi­nese col­lapse is that the expro­pri­a­tors in Chi­na in this cycle have been the Com­mu­nist Par­ty polit­i­cal class. The CCP have become the Klep­to­pre­neur bour­geoisie who have expro­pri­at­ed from China's pro­le­tari­at (the indus­tri­al work­ing class), via cor­rup­tion and theft from the state and state owned enter­pris­es. The Ka-Ching Dynasty is respon­si­ble for the great­est loot­ing of a nation in his­to­ry.
Marx wrote that mod­ern bour­geois soci­ety (Cap­i­tal­ism) has con­jured up such gigan­tic means of pro­duc­tion and of exchange, that it is like the sor­cer­er who is no longer able to con­trol the pow­ers of the nether world whom he has called up by his spells (Karl Marx)
The CCP 'sor­cer­ers' have sum­moned up a polit­i­cal and eco­nom­ic nether world that is so sys­tem­i­cal­ly cor­rupt­ed it is in the process of spi­ralling into same rev­o­lu­tion­ary physics that destroyed the orig­i­nal Chi­nese mer­chant bour­geoisie that Mao over­threw.
The Chi­nese gov­ern­ment has set sav­ing rates at exces­sive­ly low lev­els. Over­time this takes sav­ings from depos­i­tors and trans­fers wealth to bor­row­ers. In Chi­na this wealth is then mal-invest­ed in projects that have lim­it­ed real eco­nom­ic val­ue, in the process trans­fer­ring large amounts of work­er sav­ings to the klep­to­pre­neur class , who then often take the cap­i­tal out of the coun­try.
The entire Chi­nese econ­o­my has been cap­tured by loot­ers who con­ceal their crimes behind fraud­u­lent report­ing. Like their cor­po­rate brethren,they rely on fraud to con­tin­ue the Com­mu­nist Ponzi Sys­tem. Chi­nese fraud­u­lent eco­nom­ic data is hid­ing the scale of the slow­down and this is becom­ing evi­dent right across the econ­o­my. In an astound­ing exam­ple of Chi­nese pro­duc­tiv­i­ty, the econ­o­my is man­ag­ing to grow GDP by 7–8% per annum but only using slight­ly more oil, coal or cement than in the same peri­od last year. Oil con­sump­tion as report­ed in May only grew by 0.5% year on year at the same time as coal in Qin­huang­dao is hit­ting record stock piles of 9.5 mil­lion tons, which is 0.2 mil­lion tons over the pre­vi­ous 2008 record. Also, ther­mal coal stock­piles at util­i­ties is up over 60% from a year ago
The cur­rent polit­i­cal lead­er­ship of Chi­na rep­re­sents the great­est loot­ing of a coun­try by the polit­i­cal class ever seen in his­to­ry. In the Hurun Report released in March 2012—the rich­est 70 mem­bers of the gov­ern­ment have a net worth of $89.8 bil­lion, an aver­age of over $1B each. This com­pares to $7.5 bil­lion for the 660 for the US gov­ern­ment, an aver­age of $11M each. China's Bil­lion­aire People's Con­gress Makes Capi­tol Hill Look Like Pau­pers. In a coun­try so indoc­tri­nat­ed in the works of Marx, it seems only a mat­ter of time before the cur­rent Chi­nese pro­le­tari­at, suf­fer­ing under extreme wealth dis­tri­b­u­tion, will rise up. One only has to look at the geo­graph­ic dis­tri­b­u­tion of wealth to see where the prob­lems might begin.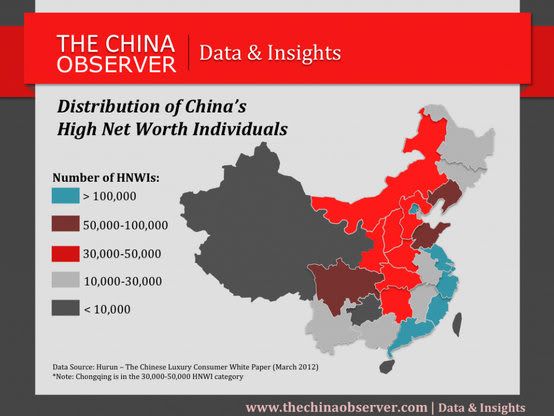 Fur­ther­more, this does not take into account the wealth held by the fam­i­lies of these politi­cians. Nor is this cor­rup­tion lim­it­ed to politi­cians. The mil­i­tary, accord­ing to John Gar­naut's report, has become one of the most cor­rupt state enter­pris­es of all. China's wealth dis­tri­b­u­tion is becom­ing com­plete­ly one sided The suc­cess of 300m Chi­nese who live in west­ern lev­el pros­per­i­ty depends on the con­tin­ued exploita­tion and good nature of one bil­lion peo­ple who live on an aver­age of $5000 per annum. This week Chi­nese mil­i­tary lead­ers have been ordered to report assets under the fol­low­ing CCP direc­tive — The Gen­er­al Polit­i­cal Depart­ment, Dis­ci­pline Inspec­tion Com­mis­sion: Lead­ers Must Report Income, Real Estate Hold­ings and Invest­ments. This is like­ly to be met with extra­or­di­nary resis­tance. This could result in a stand­off between the CCP and the PLA , where both bod­ies equal­ly rid­dled with cor­rup­tion strug­gle for the upper hand. The great
The cor­rup­tion was genet­i­cal­ly imprint­ed on the sys­tem from the ear­ly 1990s. Cadres (par­ty offi­cials) and entre­pre­neurs, com­bined to take pre­vi­ous­ly state owned enter­pris­es dur­ing an increas­ing­ly relaxed Chi­nese hybrid econ­o­my encour­aged by Deng Xiaop­ing. Cadres were inten­tion­al­ly encour­aged to leave the CCP and set up busi­ness­es, many decid­ing to keep both roles, becom­ing what was known as Cadre-entre­pre­neurs.
There were sound rea­sons for this , let­ting par­ty cadres to set up busi­ness­es was the only way of open­ing up the gov­ern­ment con­trolled sys­tem. Where­as a non-cadre entre­pre­neur might not be able to nav­i­gate the com­plex­i­ty of gov­ern­ment sup­port and approval, a CCP cadre had, in the ear­ly days, all the under­stand­ing and influ­ence to move an oppor­tu­ni­ty for­ward. This paper expands fur­ther on the on the nature of the ear­ly cor­rup­tion — Insti­tu­tion­al­ized Cor­rup­tion and Priv­i­lege in Chi­na's Social­ist Mar­ket Econ­o­my: A Gen­er­al Equi­lib­ri­um Analy­sis Ke Li, Rus­sell Smyth, and Yao Shunt­ian.
Cap­i­tal flight has start­ed; 60 per cent of about 960,000 Chi­nese peo­ple with assets of over Rmb10m ($1.6m) have already begun the process of emi­grat­ing or are con­sid­er­ing doing so. Are the Chi­nese top 1% los­ing con­fi­dence and tak­ing their mon­ey out? In the arti­cle "High Wealth Con­cen­tra­tion, Porous Exchange Con­trol, and Shocks to Rel­a­tive Return: the Frag­ile State of China's For­eign Exchange Reserve", Vic­tor Shih under­lines how frag­ile Chi­na is to a loss of con­fi­dence by Chi­nas busi­ness elite.
If this busi­ness elite is pre­dom­i­nate­ly made up of Klep­to­pre­neurs and Cadrepre­neurs , then cap­i­tal flight might be bought on by a flight to safe­ty by the polit­i­cal class fear­ing a purge rather than com­ing about as loss of con­fi­dence in Chi­na.
The great­est assump­tion that the world makes is that the CCP can con­trol and avoid this by imple­ment­ing more stim­u­lus. When this assump­tion ulti­mate­ly proves to be false then Marx's nether world will rise up
As Marx observed of the col­lapse of the Roman Empire
Orig­i­nal­ly, they were free peas­ants till­ing, every man for him­self, their own piece of land. In the course of Roman his­to­ry, they were expro­pri­at­ed. The same move­ment which sep­a­rat­ed them from their means of pro­duc­tion and of sub­sis­tence, implied not only the for­ma­tion of large land­ed prop­er­ties but also the for­ma­tion of large mon­e­tary cap­i­tals. Thus, one fine day, there were on the one hand free men stripped of every­thing save their labor pow­er, and on the oth­er, for exploit­ing this labor, the hold­ers of all acquired wealth. What hap­pened? The Roman pro­le­tar­i­an became not a wage-earn­ing work­er, but an indo­lent mob
Nev­er in his­to­ry has a gov­ern­ment at this scale , been so com­plete­ly cap­tured by a polit­i­cal class intent on enrich­ing itself, serv­ing not the best inter­ests of the peo­ple but their own ends. When and in what form the indo­lent mob ris­es up is hard to say. The real­i­ty, though, is that the Chi­nese polit­i­cal class is los­ing con­trol. Guanxi the essen­tial sys­tem of trust that holds the Chi­nese sys­tem togeth­er is break­ing down, as is the Lenin­ist van­guard sys­tem of con­trol­ling state affairs through the CCP. A sys­tem of mutu­al trust and a cen­tral par­ty van­guard is impos­si­ble to main­tain in a Klep­toc­ra­cy.
Craig Tin­dale is the Vice Pres­i­dent of the Cen­tre for Eco­nom­ic Sta­bil­i­ty, Pro­fes­sor Steve Keen's non-prof­it research ini­tia­tive.
Twit­ter #ctin­dale