I have a ridicu­lous­ly large num­ber of pub­lic talks com­ing up this month. It all starts on Wednes­day Sep­tem­ber 10th, and does­n't let up until Sun­day Sep­tem­ber 21st—the day before Induc­tion Week begins at Kingston Uni­ver­si­ty, where I am now Head of Eco­nom­ics, Pol­i­tics and His­to­ry, and com­mit­ted to mak­ing Kingston the world's lead­ing cen­tre for plu­ral­ist edu­ca­tion and research in eco­nom­ics. Check the links below if you're able to make any of these talks in, in order: Sheffield; New York; Glas­gow; Kingston; and Tub­in­gen, Ger­many. I'll cov­er talks in Octo­ber in a sub­se­quent post.
Wednesday 10th September: Sheffield
The Uni­ver­si­ty of Sheffield Law and Mon­e­tary The­o­ry 1st Annu­al Con­fer­ence: Reg­u­la­tion after the Finan­cial Cri­sis
This is an invi­ta­tion only con­fer­ence, but it will be fol­lowed by a pub­lic lec­ture by Randy Wray on Thurs­day Sep­tem­ber 11th from 18:00 to 19:30 (BST):
Pub­lic Lec­ture: L Ran­dall Wray — Mod­ern Mon­ey The­o­ry & the Job Guar­an­tee

The loca­tion is Sheffield Insti­tute for Cor­po­rate and Com­mer­cial Law (SICCL). Click on the link above to reg­is­ter. I can't make it because I have to leave in time to fly to the next event (see below), but I do rec­om­mend attend­ing. Europe needs sen­si­ble anti-aus­ter­i­ty argu­ments.
Friday to Sunday September 12th to 14th: New York
The 2014 Rethink­ing Eco­nom­ics NYC con­fer­ence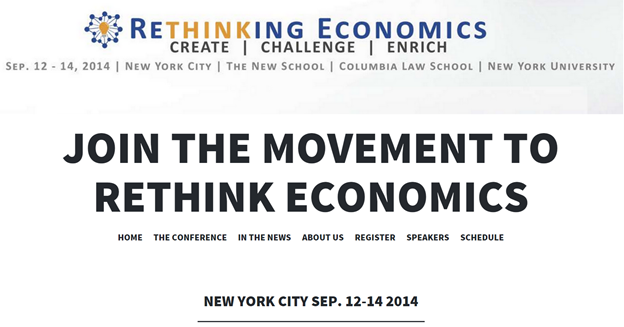 I'm one of a ridicu­lous­ly impres­sive list of speak­ers, includ­ing Paul Krug­man, Jamie Gal­braith, Philip Mirows­ki, Deirdre McCloskey, Neva Good­win, Julie Nel­son, Dean Bak­er, Richard Wolff, and many oth­ers. This is an entire­ly stu­dent-run con­fer­ence. Click on the link above to reg­is­ter
Tuesday September 16th: Glasgow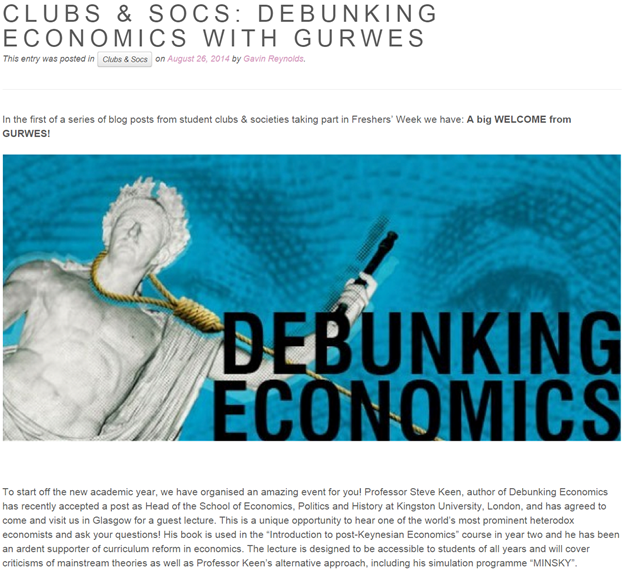 I'm speak­ing to Fresh­ers and mem­bers of the Glas­gow Uni­ver­si­ty Real World Eco­nom­ics Soci­ety at 6pm in Lec­ture The­atre A of the Boyd Orr build­ing. To find out more, click on the link above or email gurealworldeconomicssociety@gmail.com. Click here for the GURWES newslet­ter. The event is open to any­one, not just Uni­ver­si­ty of Glas­gow stu­dents.
The GLas­gow RWES, with the unre­al back­drop of Glas­gow Uni­ver­si­ty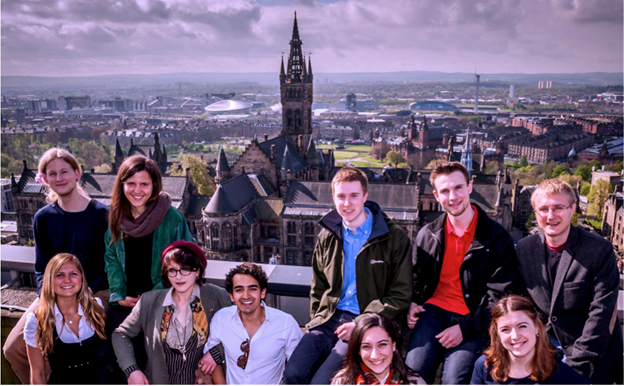 Thursday 18 September 2014
Inequal­i­ty, debt and demand work­shop at Kingston Uni­ver­si­ty. Room JG3003, John Galswor­thy build­ing, Pen­rhyn Road cam­pus, Pen­rhyn Road, Kingston upon Thames, Sur­rey KT1 2EE from 9.30am to 5.40pm.
This will be my first talk at my new Uni­ver­si­ty, where we are devel­op­ing what we intend to be the best plu­ral­ist eco­nom­ics pro­gram on the plan­et, for both under­grad­u­ates and post­grad­u­ates. I'm pre­sent­ing a paper focus­ing on one aspect of my Min­sky mod­el of a debt-induced break­down: that work­ers' share of out­put declines as the pri­vate debt to GDP ratio ris­es and a cri­sis approach­es, even though (in my mod­el) firms were the ones tak­ing on debt.
Pro­fes­sor Engel­bert Stock­ham­mer, also of Kingston, is chair­ing the sem­i­nar and pre­sent­ing too, along with Dirk Beze­mer of "No One Saw It Com­ing" fame and sev­er­al oth­ers. The sem­i­nar is open to all, and free.
Down­load the pro­gramme for the day (PDF).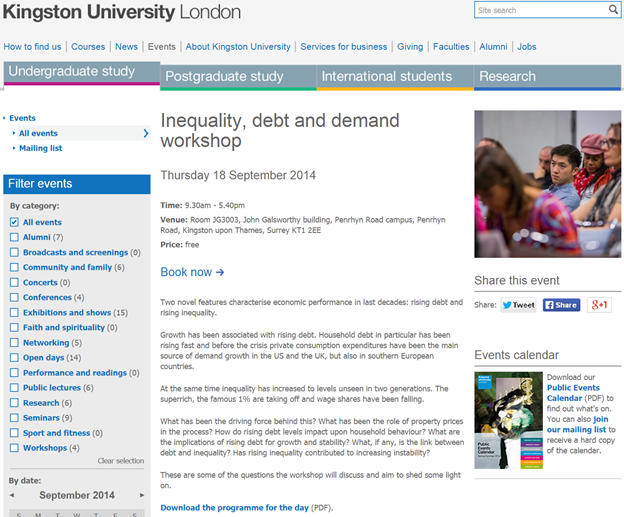 Friday September 19th to Sunday September 21st
First inter­na­tion­al con­fer­ence of the Inter­na­tion­al Stu­dent Ini­tia­tive for Plu­ral­ism in Eco­nom­ics at the Glob­al Eth­ic Insti­tute in Tub­in­gen, Ger­many. I will give a two hour lec­ture on eco­nom­ics after the cri­sis enti­tled "The over­due Coper­ni­can Rev­o­lu­tion in Eco­nom­ics", at 6:00 PM on Sat­ur­day 20th in the Wel­tethos-Insti­tut (Insti­tute for World Ethics) in Tue­bin­gen and there will be numer­ous dis­cus­sions about how to pro­mote the plu­ral­ist cause there. If you can make it, do reg­is­ter and come along.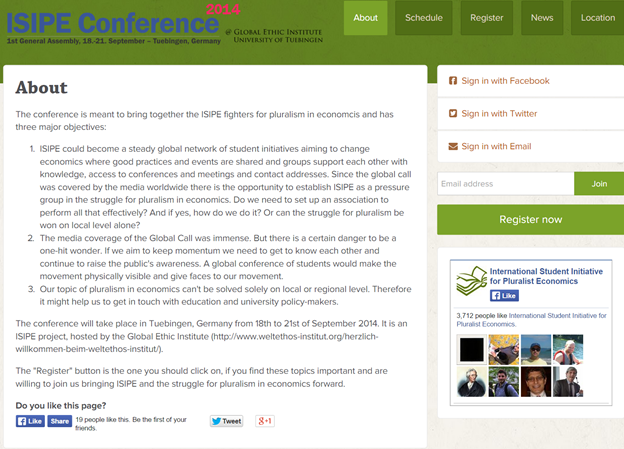 After that, I get a breather for a whole two weeks before I give a talk in Bris­tol at West Eng­land Uni­ver­si­ty on Thurs­day Octo­ber 2nd.
Thursday October 2nd
I'm giv­ing a talk on "Incor­po­rat­ing banks, debt and mon­ey into macro­eco­nom­ics" at the Eco­nom­ics staff sem­i­nar there. Click on the link to find out more.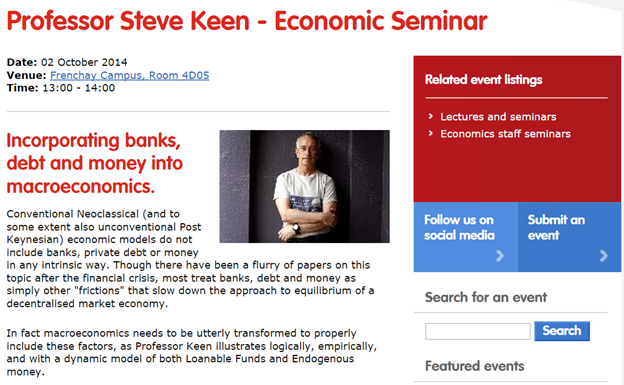 There are more talks com­ing up in October—including book launch­es in France and Mexico—but I'll cov­er those in a lat­er post.
For a pluralist education in economics, Come to Kingston!