I have just accepted an offer to become Head of the School of Economics, History and Politics at Kingston University in London. I will take up the appointment in time for the Autumn term, which starts on September 23rd.
Kingston will respond positively to calls from students for genuine reform of economics education—like those made by the Post-Crash Economics Society in Manchester, and the International Student Initiative for Pluralism in Economics (which was launched only days ago).
These student calls for genuine reform are timely, because though there are some initiatives for reform, academic economics has, if anything, become more hostile to criticism of the mainstream and to presentation of alternative perspectives than it was before the crisis.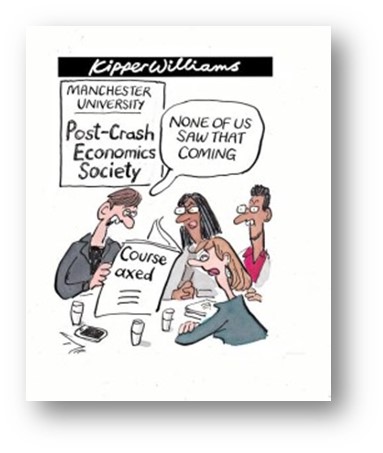 Kingston is different. It already has a curriculum that teaches both mainstream and non-orthodox approaches. We will develop this further in the coming years to provide an education that is mindful of the need for economics to be humble after its many failures.
These include not merely the failure of Neoclassical economics to foresee the financial crisis—and its contribution to that crisis by championing the financial products that made the crisis so severe—but also the failure of Marxian economics to foresee the many problems that led to the collapse of centrally planned economies two decades earlier.
The guiding principles in developing Kingston's approach will be, firstly, that there is no "right" school of economic thought today, so that all schools of thought deserve to be taught; and secondly, that nothing in economics is sacred, so that different approaches should be taught "warts and all"—with their weaknesses noted as well as their strengths.
For example, as well as teaching the "Representative Agent" models that dominate Neoclassical macroeconomics, we'll cover why the Sonnenschein–Mantel–Debreu theorem undermines these models, as Alan Kirman eloquently argued back in 1989:
If we are to progress further we may well be forced to theories in terms of groups who have collectively coherent behavior. Thus demand and expenditure functions if they are to be set against reality must be defined at some reasonably high level of aggregation. The idea that we should start at the level of the isolated individual is one which we may well have to abandon. (Alan Kirman 1989, "The Intrinsic Limits of Modern Economic Theory: The Emperor has No Clothes")
We'll give the same treatment to other schools of thought as well.
We'll also teach economics in the context of other social sciences—something that the Post-Crash Economics Society manifesto has called for:
the study of ethics, politics and history are almost completely absent from the syllabus. We propose that economics cannot be properly understood with all these aspects excluded. (Relearning Economics)
The International Student Initiative for Pluralism in Economics puts a similar case:
Finally, economics education should include interdisciplinary approaches and allow students to engage with other social sciences and the humanities. Economics is a social science; complex economic phenomena can seldom be understood if presented in a vacuum, removed from their sociological, political, and historical contexts. To properly discuss economic policy, students should understand the broader social impacts and moral implications of economic decisions. (ISIPE Open Letter, May 5th 2014)
This is something that Kingston is uniquely placed to be able to achieve since it is, to my knowledge, the only School of Economics, History and Politics in existence.
So if you want a critical, pluralist education in economics (whether as an undergraduate or postgraduate), and one which puts economics in the context of history and politics, join me in Kingston.

Kingston's Economics, History & Politics Programs
Undergraduate
Applied Economics BA (Hons) joint honours only
Business Economics BSc (Hons) single honours
Economics BSc (Hons) single honours
Financial Economics BSc (Hons) single honours
History BA (Hons) single or joint honours
Politics and International Relations BA (Hons) single honours
Politics BA (Hons) joint honours only
Postgraduate